Overview
Determine individual pharmacokinetic (and pharmacokinetic-pharmacodynamic) profiles and use them to personalise drug regimens. You provide the data (observations from therapeutic drug monitoring, or TDM) and a population pharmacokinetic model, posologyr provides the individual a posteriori estimate and allows you to determine the optimal dosing.
posologyr provides the following functions for dosage optimization:
Individual pharmacokinetic (PK) profiles can be estimated with or without data from therapeutic drug monitoring (TDM):
poso_estim_map() computes the Maximum A Posteriori (MAP), aka Empirical Bayes Estimates (EBE), of individual PK parameters from the results of TDM
poso_estim_sir() estimates the full posterior distributions of individual PK parameters by Sequential Importance Resampling (SIR) from the results of TDM
poso_simu_pop() samples from the the a priori distributions of PK parameters
posologyr takes advantage of the simulation framework provided by the rxode2 package.
Installation
You can install the released version of posologyr from CRAN with:
You can install the development version of posologyr from GitHub with:



# install.packages("remotes")




remotes

::

install_github

(

"levenc/posologyr"

)
Example of MAP-EBE estimation
posologyr allows the adaptation of dosage from two elements: a data set, and a prior population PK model.
Data for input into posologyr is the same type of data input for rxode2, see vignette("patient_data_input") for minimal examples.
A posologyr prior ppk model is a named R list. Its structure is described in vignette("posologyr_user_defined_models").
With these two elements, one can estimate the patient's MAP-EBE PK parameters, and the individual concentrations over time.
The individual profile can be plotted easily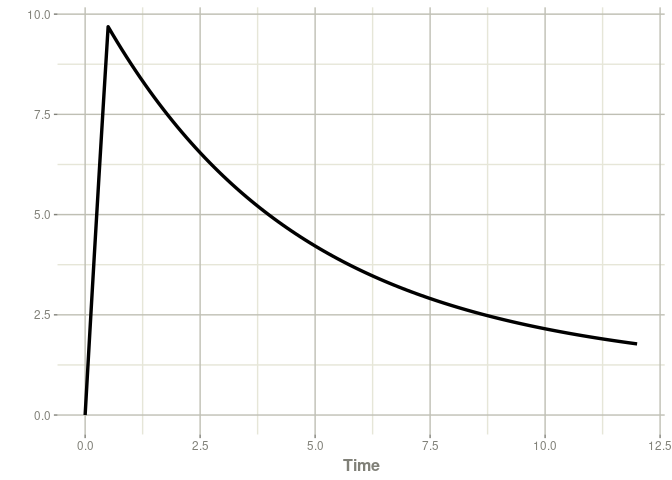 Using ggplot2 the observed data points can be added to the plot
Performance of the MAP-EBE algorithm in posologyr
posologyr showed comparable performance to NONMEM MAP estimation with option MAXEVAL=0: